Adventures – "Just go do it"
/
A 27 year-old geography teacher from London got himself a one-way flight ticket to "The Gateway to Hell".   He brought Alanis – his bicycle that would take him home to England, and little else.
Rob Lilwall was going to Magadan in Siberia.  There, he would meet his friend Al Humphrey, who started his own 'round-the-world-by-bike trip' three years earlier and invited Rob along for the last leg of his ride, across Asia.  Instead of beginning the journey from a place like Shanghai or Tokyo, the duo opted for Siberia, "just because this looked more epic and ridiculous, and, for any aspiring, self-respecting, English explorer, 'epic-ness' and 'ridiculous-ness' were both essential requirements", as Rob Lilwall wrote in his book, "Cycling Home from Siberia".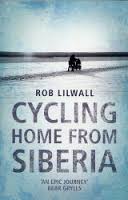 People they met warned it would be far too cold for their ride through Siberia that they would freeze to death, be trapped by blizzards, or they would be eaten by bears or attacked by wolves.  They seemed crazy, but unlike drunkards without consciousness, they were going into it sober and fully aware of the dangers.
Rob Lilwall reflected in his book:
             "The road that we would have to follow, the only road that existed, would take us past the coldest inhabited place in the  world."      
          "The question seems to be settled in most people's minds – if we insisted on setting off into Siberia on our winter bicycle ride, we would certainly die…. With images of snarling fangs and frostbitten toes bouncing around my mind, I pondered some survival strategies…"  
Rob survived Siberia and its bitter cold winter that went as low as -40 degrees Celsius.  At -20 degrees Celsius, his body felt shocked by the embrace of cold and every breadth he took felt as though it was damaging his lungs.  As the temperature crept lower, he wrote, "my feet now felt as if they were blocks of ice and the numbness was beginning to advance up my legs… overwhelmed with panic I started to run around in circles while stomping my feet to get the blood flowing".   In that part of their journey they would be falling off their bikes at least once almost every day while riding on the icy roads.
Rob Lilwall's bicycle journey ended up taking more than three years.  From September 2004 to October 2007, he rode from Siberia on to Japan, South Korea, China, Hong Kong, across to Philippines, Papua New Guinea, down to Australia, back up to Singapore, India, Tibet, Pakistan, Afghanistan, the Europe motherland and finally back to London.  
Rob cycled in the first four months through Siberia and northern Japan with Al Humphrey, then ventured alone for the rest of the trip.  In 2012, Rob took off again and this time did a walking trip from Mongolia to Hong Kong that lasted six months long.  He chose to walk for a change and to see China directly at ground level.
"I don't want an easy life.  I want to be stretching and testing myself.  I really enjoy the adventures, learning about the world firsthand, being out in the wild.  It is nice for those things to come together", Rob said, as he explained his love for adventures, and a desire for an unconventional life.
After his cycling trip Rob received a book deal when he was introduced to an agent.  There was a student whom he met in Italy on the trip whose father was a senior executive at National Geographic, and he ended up with a National Geographic documentary on his trip.  "The book and the TV series were a bit of an accident.  I never planned to do that when I was cycling, and thought I was going to go back to teaching", Rob recalls, "Suddenly I started paying the bills through this new career."   Armed with the success of a National Geographic film and his book on his first trip, Rob was given another book deal and also got a TV commission for his walk home from Mongolia.
Whether intentional or accidental, Rob Lilwall and Al Humphrey are professional adventurers.  An adventurer is 'typically someone who seeks out unusual and uncommon situations' – the website wikiHow provides this definition and also offers a guide to becoming an adventurer and making it a career.  Kukri, a sportswear company, launched an adventure scholarship in October 2012, with prize money of up to £20,000, advice and also support for aspiring adventurers.  The program's ambassador Mark Beaumont broke the world record for cycling around the world over 194 days in 2007/2008.   The 2013 winners of the Kukri scholarship include a group going on an epic kayaking journey down the Mississippi river from source to sea over three months, a man from Scotland Nick Hancock who will live 60 days on an island on his own without any support, a 'super-cyclist' Will Hodson who plans to raise money for charity while cycling around the world (from Turkey to Turkmenistan) and inspiring school children to 'get on their bike'.
Adventurers such as these have been inspired by those before them, and in turn inspire others.  When Rob Lilwall and Al Humphrey were caught in the deep cold of Siberia so much so that their equipments were beginning to freeze and fail, their morale was yet boosted as the moisture in their breadth started to condense onto their beards, resembling top British explorer Sir Ranulph Fiennes they have always admired.   The adventure travel market is growing at an estimated yearly rate of 65 percent from 2009 to 2012, according to the 2013 adventure tourism market study by the Adventure Travel Trade Association, suggesting more people are looking for challenging travel experiences.  Going on adventures often conveys living life fully and embarking on heroic journeys of discovery or a search for meaning.  The usual formula for a professional appears to be an adventurer, author, and inspirational speaker rolled into one, as is the case for Mark Beaumont, and similarly Rob Lilwall and Al Humphrey.  It is also common to raise money from the adventure for one or more charity.  Rob took his adventures in support a children's charity, Viva, and together with his wife they are now national directors for Viva in Hong Kong.
It may be great and meaningful, but it is not all fun or glamorous.  "There was cold, pain, boredom and fear, and not as exciting as one would imagine it, but that's how it is with anything worth doing", Rob said as he provided a reality check, looking back at the dangers he faced when cycling through Siberia, Papua New Guinea and Afghanistan which he referred to as the three most difficult segments on his bicycle journey.  Rob rode through the vast, mostly unexplored jungle of Papua New Guinea, with the threat of snakes and murderous tribes, and later crossed the Khyber Pass into war-torn Afghanistan where he had to navigate any risk of getting shot dead.  "My fear was usually the worst when my mind starts imagining everything that might go wrong.  That's just a horrible kind of fear.  When I was actually cycling there, it was more an exciting sort of fear.  Then occasionally I had very terrifying moments – when I was robbed twice, or had a snake slithered out in front of me, but the moments passed quickly," Rob described, and added, "You need to have a sense of the absurd when everything seems to be going wrong."   It is incredible that he made it through.
Boredom is also a big challenge. "99% of the time it is a slog, getting up and cycling or walking 10-12 hours a day, with not a lot happening, it is even more boring than an office job, that you'd think – what's the point?"  The golden rule is perseverance against any temptation to cheat.  "It was very healthy to have some very clear goals – long term, clear goal of cycling home, and a mid term goal of in-between destinations, and a daily goal.  If I gave up I would just feel awful", Rob said.  "I am not doing this in order to tell people look what I have done.  I am doing this as a test of who I am, not just a physical test, but also a test of character.  If I fail that test I might as well go home, rather than cheating and pretending I have done it.   Though it had been tempting to jump onto a truck that offers a lift, but then – you can call it 'hitch-hiking home from Mongolia'."
Rob was pondering his own internal journey as he was going through the external experiences on his trips.  "I had hoped that during the journey I would grow up as a person and as a Christian.  In a way, I saw it as a pilgrimage on which, through encountering real danger, severe adventure and extraordinary people, I might be stretched in good ways as I headed for home", Rob wrote in his book.  "Hopefully doing these trips, living simply, facing fears, facing death, would teach us things and stop us taking for granted life or anything good in life", Rob Lilwall said, motivated.
Rob Lilwall's stories provide inspiration for setting goals, achieving through perseverance and staying true to himself and his faith.  Sensitive that not everyone could or would do what he has, Rob said humbly, "Maybe I was lucky in a way that I have not been a golden student.  If I had been an amazing student, or offered an amazing job, I probably would not have gone cycling.   If you are a clever and able person, and especially if you are well qualified, you can get drawn into a successful career, and quite quickly get into a certain kind of lifestyle.  A lot of people are frightened to step out of the comfortable and safe in life, to go down a path less traveled."
While not everyone might go away on a faraway or dangerous journey for a life lesson, an adventure and opportunity for self-discovery may be something just round the corner, and different things may count as adventures in different forms.  Last year, Al Humphrey won a National Geographic Award for his campaign to rally people into 'microadventures'.  In his interview with National Geographic, he said, "I started to think it was possible to have an adventure anywhere.  That it was really just a state of mind."   In putting forward one of his 'microadventure' ideas of going to sleep on a hill in one's neighborhood, Al said, "You don't need a lot of time or a lot of money to have an adventure, to test yourself, to do something new or beautiful for the first time.  All you need to do is to just go and do it".
As in a famous quote by Helen Keller, "Life is either a daring adventure or nothing at all."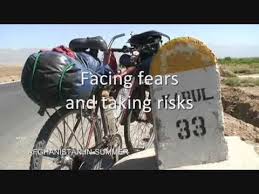 (Rob Lilwall's upcoming book launch in Hong Kong – Walking Home from Mongolia)