China Judiciary Pledges Open Justice and Judicial Reform
/
The President of China People's Supreme Court, or China Chief Justice, Zhou Qiang, pledges judicial reform and open justice.  Zhou was delivering his work report on 10 March 2014 at the annual meeting of the National People's Congress.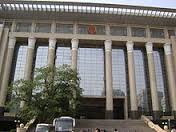 Zhou pledges to firmly uphold justice for the people, fair administration of justice and continuous deepening of judicial reform, promising that, "this year, the People's Court shall fully implement the spirit of the 18th National People's Congress and its annual meetings, seek to implement the spirit of the current annual meeting and the central administrative working meetings, earnestly implement the key messages of Chief Secretary Xi Jinping and the goal that "the public shall see fairness and justice in every case"."
Under China's political system, the judiciary is one of the auspices of the governance framework of the ruling China Communist Party.   As President of the People's Supreme Court, Zhou Qiang is also a member of the 18th Central Committee of the China Communist Party.
It is within this structure that the judiciary emphasizes its role in building the rule of law, towards fairness and justice in China.  Zhou says the judiciary will push forward with reform measures under the "Fourth 5-year Reform Plan 2014-2018 of the People's Court", to support modernization of China's governance structure.
Key aspects of the reform measures include establishing greater openness and access between the judiciary and the public, as well as building better accountability, independence and qualification of the judiciary.
Calls for reform of the China judiciary intensified in recent years amidst increasing public outcry of discontent and corruption.    In October 2012, China released a white paper entitled "Judicial Reform in China".   Last year, the Supreme People's Court rolled out several schemes for open justice, including the launch of its Sina Weibo account through which it publishes important adjudicative information or legal interpretation.  Live telecast of certain court trials was also launched in 2013.
A press conference was also held on Monday evening, at which four High People's Court provincial judges of Heilongjiang, Jiangsu, Anhui and Guangxi addressed press questions under the topic, "Justice for the People and Open Justice".
"Weibo and Weixin should be accessible in all courts", according to Zhang Jian, High People's Court Judge of Anhui province.  Zhang also said, "Open justice has been unprecedented in 2013, in its force, depth and breadth, with openness in information on trial procedures, judgment and enforcement."
In a separate press interview, Li Shaoping, Deputy President of the People's Court, also promotes open justice in order to serve fairness and justice of the judiciary, enhance judges' ability and accountability, and standardize application of the law.
"Transparency is the best anti-corruption measure, and a key foundation for public trust", Li affirmed.
As the public welcomes the push for judicial reform, some online commentary expressed hope as well as reservation.  One anonymous comment post noted, "While these are the right steps for reform, it would be good to see them in practice."