Hong Kong market down on China data and outlook
/
(The day I filed a financial journalism stock comment)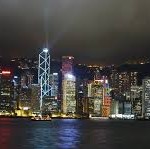 The Hang Seng Index retreated 1.6% to 22671.26 points on   Tuesday, its biggest pullback in almost a month.  Since opening of trading, the Hong Kong stock exchange got onto a general down trend throughout the day.  The day's performance follows data just released from the People's Bank of China that shows China's credit falling 19% over the past year.  At the same time, money supply grew at the slowest pace ever recorded, as reported by Bloomberg. 
As concerns on the Mainland slowdown weighs down on the Hong Kong stock market, it may underscore Hong Kong's closer dependency on China. Conversely, this could show reduced correlation with the US market, where on the previous trading day Dow Jones Industrial Average and S&P500 were both up by close to 1%.
Today's most actively traded counter was Hong Kong Exchange and Clearing Ltd. (00388), with a turnover of nearly HK$2.68 billion.  The stock had a significant decline of 5.27% to HK$141.9, suffering a reversal of its strong upswing since the announcement last Thursday of a scheme for mutual stock market access between Mainland China and Hong Kong.  On Friday, the stock was up 11.5%.  There may be reduced confidence in the scheme following an article in the South China Morning Post with questions whether China is ready for the proposed cross-border trading.
The top 20 most active counters were mostly depressed including a number of China banks.  China Construction Bank (00939), Industrial & Commerce Bank Co., Ltd. (01398) and Bank of China Limited (03988) were all down between 1 – 2% but Citic Bank (00998) were down by over 7% and Minsheng Bank (01988) down by 8%.    China securities firm Guotai Junan (01788) also declined by close to 8%, after having been up by about 20% last week.  Besides the general China economic concerns, China banks also face pressure from possible narrowing of its trading premium in Hong Kong if the mutual stock market access takes off, especially those with dual-listed A-Shares in China and H-Shares in Hong Kong.    Agricultural Bank of China (01288) is another bank down by over 2.1%, repeating its decline last Friday.
The other actively traded shares today were Tencent (00700), with close to $1.9 billion of turnover, and China Mobile (00941), with over HK$1 million in turnover.   Each of the stocks reflected a decline of 2%.     Just a day ago, it was reported Tencent will establish one of the first privately held banks in the Qianhai district in Shenzhen, under a joint venture with Baiyeyuan Investment and pursuant to a pilot program led by the China Banking Regulatory Commission.     According to a local news report, Tencent has submitted proposals for a technology bank and an online bank. ##